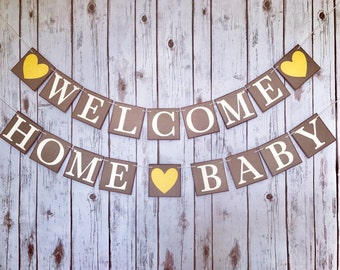 Image Credit: Etsy
Welcoming your baby home is an exciting and special experience! But before you do, it is vital to ensure that baby enters a safe, child-friendly environment. Develop a safe place for baby by baby-proofing your entire home. That means, in every single room or area, making sure that anything baby might touch, tug or play with won't harm them. And, of course, it means covering all basic health and safety requirements such as checking that your smoke alarm is working and removing all trip hazards. To baby-proof your home correctly, we have created some room-by-room guides and checklists for you to follow.
Image Credit: Baby Gate Guru
General Safety in the Home
Firstly, you need to think about how baby-safe your house is in general. Before moving onto each room, ensure that you:
set your hot-water heater below 120°F to prevent scalding your baby in the bath,
place smoke detectors and carbon-monoxide detectors on each floor,
place safety gates at the top and bottom of the stairs and at the entrance or exit to any room that's off-limits to baby,
cover all electrical outlets with plastic caps,
hoover regularly to rid small objects that can cause choking,
cover radiators and heating vents to prevent burns, and
store paints and other hazardous substances in airtight containers and place them on high shelves in a cool, dry area.
Lisa Nursery Set
In the Nursery
Safety first! While making your nursery look fabulous is fun, making sure that it is safe is much more important. Here's what you must consider in setting up your baby's nursery:
make sure baby's cot is safe.
A new cot is probably fine. A cot more than five-years-old that you wish to reuse, however, might not meet current health and safety standards. For example, the gap between bars and panels should measure 50mm-65mm and between and the gap between cot sides or ends should measure no more than 20mm. Also,
save pillows, blankets and stuffed animals for toddlerhood as they can suffocate baby.
Remember, lay baby on their back to sleep and ensure that sheets and mattress fit securely.
In the Kitchen
While you're busy cooking and cleaning in this room, you don't want to find baby getting into any trouble when you're not looking for a second. Here's what you should do in the kitchen:
move cleaning supplies and detergents to the very top cupboards if they aren't in there already,
hold safe-to-find objects such as pots and pans, plastic containers and paper products in bottom cupboards – even if they have safety latches,
move suffocation hazards like plastic and paper bags, choking hazards like magnets and anything sharp to high drawers,
keep vitamin or mineral supplements, if you use them, in a hard-to-reach drawer or cabinet with a safety latch.
To curious babies and children, supplements look like something edible, so keep them out of reach. Child-resistant caps are still openable – they just take a little longer. Finally,
unplug small appliances like toasters and kettles when not in use but don't let the cord hang.
If you haven't already, pick up latches for cabinets and drawers that contain harmful products and stove-knob covers so your baby doesn't reach them once they start climbing.
Image Credit: Ikea
In the Living Room
In the living room, falls and collisions with furniture are the most likely dangers to your baby. Here's how to prevent your baby from injuries in this room:
add cushioned corner guards or edging to coffee and side tables, fireplaces and any other sharp-cornered surfaces,
move everything away from your windows so baby can't fall out as they climb on the furniture, and
attach the TV to its surface securely so baby can't pull it down.
Perhaps acquire some cordless blinds, as cords are a strangling hazard, and electrical tape to secure electric cords away from baby.
Image Credit: Which
In the Bathroom
It is crucial that you never leave your child alone in the bathroom, and never leave your child alone in the bathtub, even for a split second. Babies can drown in just a few inches of water, so a ringing phone or anything else can wait unless you pull baby out and take them with you. Here's what else you must do in the bathroom to ensure baby's safety:
like in the kitchen, move harmful products to high shelves, and
remove all electrical appliances and their cords to avoid electrical dangers.
Products to add on your shopping list for the bathroom include a latch for the medicine cabinet, a toilet lock and a thermometer to check baby's bathwater is a safe temperature.
We hope you find this guide useful. If you have any more questions regarding the safety of your home for baby, email design@thebabycotshop.com and we'll be happy to help.
Written by Sophie Pavlou
Leave a Comment »