Image: Andy Italian Luxury Cradle
Congratulations! If you're reading this, you've probably painted and freshly furnished a room ready for the arrival of your newborn. Now, you're wondering how to accessorise your nursery. What kind of decorations do babies like? How can I add a personal touch? Is it possible to over-decorate? With so many beautiful decorative accessories on offer, it is easy to go a little overboard. That's why we've devised a definitive list of decorations for your nursery that will not only stimulate your little one, but also create a luxurious and special space for the entire family.
Wait… Have you chosen a colour scheme?
Before we share our list, you must have chosen a colour scheme for the nursery to acquire accessories in colours that complement the colour(s) of the walls. If you need advice on how to coordinate colours, read our blog on how to choose nursery paint colours – where we also tell you how to add accents of different colours that work well with them – here.
And now… accessorise!
Once you've settled on a colour scheme and put every piece of furniture in place, it's time to add some accessories! To complete your nursery, consider collecting these delightful decorations…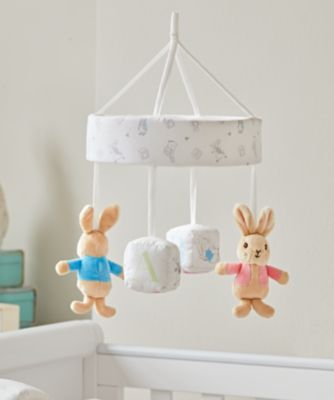 Keep your little one satisfied and settled at bedtime by hanging a mobile over their cot or cot bed. For newborns who spend a lot of time on their backs, a mobile can aid focus, provide entertainment, help to soothe and even develop a baby's motor skills as they begin to attempt reaching for the mobile. A small movement like reaching towards a toy or object is the first step towards mastering motor skills.
Round or Rectangular Rugs
Rugs do not merely cover your floors; they offer both comfort and style. Depending on the size of your nursery, some rugs suit the space better than others. In a small nursery, consider placing a round rug rather than a large, rectangular one to avoid consuming the floor space and making the room appear smaller. Circular or octagonal rugs look unique and embrace an element of fun. In larger nurseries, standard rectangular rugs make the room seem even more spacious; they also provide both utility and elegance. View our range of rugs here.
Image: Bramble Toadstool Nightlight Red
Brighten up your nursery by situating a lamp atop a desk or the chest of drawers. Not only do lamps illuminate the room, but they also add character to the nursery. Choose a creative lamp like our Bramble Toadstool Nightlight to stimulate your little one's imagination or select something subtler like a simple-patterned shade to complement other colours around the room. View our range of luxury lamps here.
Image: The Baby Cot Shop
Use your baby's name as a form of wall art by spelling it out on the wall with lovely 3D letters. Available in a variety of colours, patterns and materials, this feature will enhance both the appearance and personal feel of the nursery.
Height charts are a great way for your child to observe how fast they are growing. You can indicate how much they've grown with a permanent marker which also makes a keepsake that will last forever. With gorgeous motifs dotted on the chart, they also make an aesthetically pleasing addition to the nursery. View our charming height charts here.
Photos and canvases with artwork, like adorable little animals or cute fictional characters, aid children in developing creative and imaginative minds. For an extra personal charm, display photos of the family to help baby familiarise themselves with every face. Perhaps place family photos above the changing table so baby can look at them whilst they're being changed. View our charismatic canvases here.
Hang beautiful buntings in your nursery to spruce up the ceilings and walls. Buntings add a splash of colour, texture and excitement, so they can really stimulate your baby as they spend time playing in their room. If you have a white or neutral-coloured nursery, colourful buntings make great distinctive features.
We hope you find this guide on how to accessorise your nursery useful!
Here at The Baby Cot Shop, we are proud to present the world's most beautiful furniture and decorative accessories including lighting, artwork and rugs. Shop our range of luxury furniture and décor here.
If you need some assistance in deciding how to accessorise your nursery, email design@thebabycotshop.com and we'll be more than happy to help you.
Written by Sophie Pavlou
Leave a Comment »